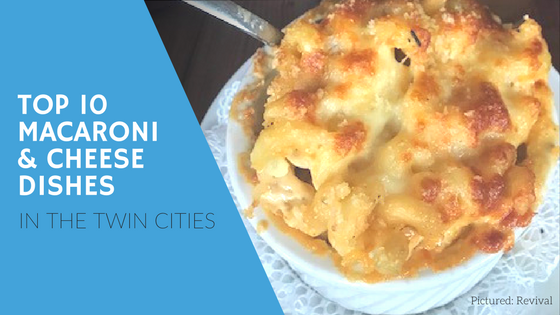 We wish every day was National Macaroni and Cheese Day and The Dayna Murray Home Team is dreaming of our favorite local preparations. After a deep debate, we pulled together the top 10 places to get macaroni and cheese in Wayzata and the Twin Cities. Some of these dishes are home style, a handful are unique, a few are fishy and one of them is best when stirred in the kitchen of our buyer's agent. Have a read, then go out and treat yourself to some mac!
4257 Nicollet Avenue, Minneapolis, MN 55409 I Mac + Cheese $6
The. Best. Mac. And. Cheese. In. The. Twin. Cities. Hands down. This side dish is baked to perfection. Creamy – not soggy. Cheesy – not overpowering. Browned on the top and piping hot in the middle. Revival's Mac + Cheese is even better when paired with their Southern Fried or Tennessee Hot chicken. Please go, you won't regret it.
11544 Wayzata Blvd, Minnetonka, MN 55305 ILobster Mac & Cheese $12 / $26
This lobster mac consists of cavatappi noodles, fresh lobster, tomato, green onion, three-cheese cream and cornbread crumbs, melted together for a rich, southern feel. We love this Minnetonka restaurant and hope you do, too.
1179 Wayzata Blvd. E, Wayzata, MN 55391 I Wisconsin Mac & Cheese $6
Everybody loves a classic, and it doesn't get more traditional than elbow noodles prepared with Wisconsin cheese. This dish is great on its own or as a side, and, thanks to Noodles' casual restaurant style, you can enjoy it quickly or on-the-go.
603 Washington Avenue North, Minneapolis, MN 55401 I Lobster Mac & Cheese $14 / $19
Smack Shack does seafood proud. They're known for their lobster rolls and they make a mean Po' Boy, but their lobster mac and cheese, made with tallegio, sweet corn and breadcrumbs, should not be overlooked. Warm, delicious and best enjoyed on their patio or inside their stylish restaurant on cold, Minnesota days.
509 1st Avenue NE, Minneapolis, MN 55413 I Mac and Cheese $10 Add Ham & Peas $4 Add Lobster $6
Add the lobster… trust us. Red Stag's macaroni and cheese is great on its own, but you just can't beat fresh lobster tossed with the creamy goodness of cavatappi noodles, WI Parmesan, truffle and toasted bread crumbs.
1440 W Lake Street, Minneapolis, MN 55408 I Macaroni and Cheese Pizza $4.10 for a slice, $23 for 16" (more sizes available)
Mac & cheese is great in a bowl but it's even better on… pizza! When these two Italian wonders combine they create explosions on your taste buds. Filling, fun and flavorful. Grab a slice or a whole pizza… either way, you're in for a rich treat.
519 Central Avenue NE, Minneapolis, MN 55413 I The Bellybomb (includes kettle chips) $8 Substitute chips for vegetarian chili + $.95
What's a Bellybomb, you ask? Why is it on a list of macaroni and cheese dishes? Why is it sold at a donut shop? We know you have questions and we have answers. The Bellybomb is fried macaroni and cheese… in the shape of a donut… plus the "donut" hole on the side… and a side of kettle chips or vegetarian chili… Need we say more?
3150 Nicollet Avenue, Minneapolis, MN 55408 IFontina Mac & Cheese $16
Pat's Tap changed the game when they chose to create their mac & cheese with the Italian cow's milk cheese, fontina. Other flavors within the dish include Spring Garlic, asparagus, peas, and fine herbs. Unique and delectable.
1310 W Wayzata Blvd, Long Lake, MN 55356 I Lobster Mac & Cheese $21
We love Birch's because it's near the office, it's right on the lake, they're an Open Table diner's choice award recipient in 2017, plus, they brew their own beer. Oh, and their delicious Lobster Mac & Cheese is prepared with pancetta and peas. What more could you want?
Found at Your Local Grocery Store I The Blue Box, Price Varies
Nothing brings back more childhood flashbacks than the blue box. Best prepared in the comfort of your own kitchen, this dish may not be fancy, but it's delicious. Our buyer's agent, Brian, makes a mean bowl of Kraft – you'll just have to get the dinner invite!