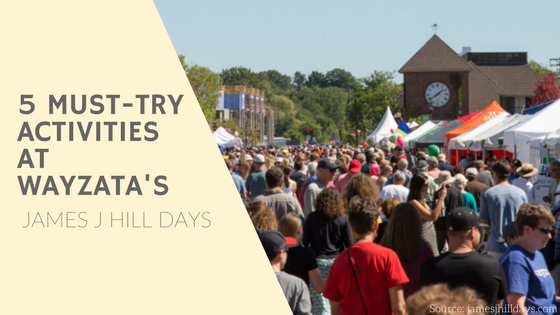 Our team always looks forward to the weekend after Labor Day, because that means we get to spend time with our clients and community at Wayzata's James J Hill Days. Families, friends and neighbors gather on Lake Street in downtown Wayzata for a plethora of attractions celebrating the suburb we call home. These activities include an open-air street market, concerts, logrolling, fireworks… and the list goes on.
Since there is so much to do, and only one weekend to experience it all, we've outlined our top five favorite activities. Let's get ready to enjoy this year's James J Hill Days!
1. Depot Dog Park
We have a couple of dog lovers on The Dayna Murray Home Team, so it's no surprise that the Depot Dog Park is at the top of the list. This year, there are several events devoted to our four-legged friends. The hottest pup event is the Dachshund Races, where the little guys run their hearts out to reach the finish line as their human friends and family cheer them on. Ears flapping in the wind, it's nearly too much cuteness to bear. The races take place on Saturday from noon – 2 p.m. on Lake Street. In addition, you can buy a treat for your cherished canine at the Dog Days Street Market (both Saturday and Sunday) or be amazed as canines fly through the air at the MN Disc Dog Competition (Sunday 9 a.m. – 12 p.m.).
2. Coaster Cart Derby
The Coaster Cart Derby is a dream come true for a group of young racers and their families. Kids and their parents, guardians or friends design and build their very own coaster carts. Spectators gather to watch the kids, many decked out in Scout uniforms, zoom down Minnetonka Ave., faces beaming. Whether you know a child participating (age 6-14) or you want to watch the kids race in their creations, this is a fun event to take in. The derby takes place on Saturday from 10 a.m. – 2 p.m. and will begin near the Wayzata Post Office.
3. Street Dance
Street dances are a small-town tradition and the perfect addition to James J Hill Days. Free, live music and a lively crowd moving and grooving make this event a highlight. This year's street dance is all day on Saturday in the parking lot West of Cov. We can't wait to hear some local bands and take in the immense talent that fills our community.
4. Parade
As Wayzata residents, friends and family line Lake Street for the annual parade, we're reminded what a fun and connected community we work in every single day. People pack the sidewalks to watch local businesses and organizations wave hello and share smiles with kids and adults, alike. Entertainment fills the street, with dancers and music to sway too. You won't want to miss this event on Sunday from 2 p.m. – 3:30 p.m.
5. Street Market and Eat Street
We love this attraction, because we're a part of it! Attendees can walk from booth to booth downtown, talking to businesses and buying local. The Dayna Murray Home Team will be at the Keller Williams Premier Realty booth on Saturday from 11 a.m. – 12 p.m. (right before the dachshund races!) to catch up and chat about real estate. Not only can you talk with local businesses like us, you can eat from some popular Twin Cities restaurants and food trucks, including Peeps Hotbox and Jake's Street Grille.
For a full list of events in addition to time and location information, visit the official website for James J Hill Days.

For more insights on community events and news, join our enewsletter!