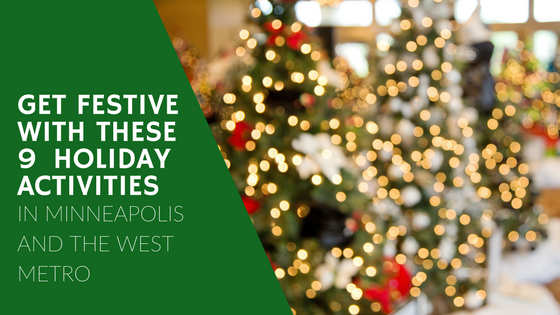 The festive holiday season is in full swing and there's a wealth of holiday cheer to go around throughout the Twin Cities and West Metro. We searched to find the very best activities for friends and families to enjoy throughout the Christmas season and into the New Year. Check out the lineup below and Happy Holidays!
On Saturday, December 9, Santa, Mrs. Claus and their reindeer will head to Plymouth Creek Park. Meet them and enjoy festive family fun, including storytelling and hay rides.
Make your way to the Hopkins Activity Center to peruse local food, wellness, art and music vendors. This is a great way to buy Christmas gifts for your loved ones while supporting small businesses.
Once per year, the beautiful, CP Holiday Train rolls through Minnesota. Covered in lights, this train makes its way through Canada and the United States, raising food and money for those in need and providing beauty and entertainment to those lucky to catch a glimpse. It's scheduled to arrive in Minneapolis on December 9th at 7:25 p.m. and make a stop in St. Louis Park on December 10th at 6:00 p.m.
Minneapolis gathers for the Holidazzle each year to enjoy delicious food, peruse local vendors, listen to live music and be merry. The outdoor fun at Loring Park includes ice skating, moves, large bonfires and amazing animals built using recycled materials.
If your family has the tradition of driving around to look at holiday lights, you won't want to miss this display set to music in Minnetrista. The show runs every 30 minutes from 6-9 p.m (10 p.m. on Friday and Saturday) and lasts for 12 minutes. Listen to the music, see the lights, sip hot cocoa and enjoy quality time with friends or family.
Watch a Minneapolis production of the Charles Dickens classic at the Guthrie. This local production is on its 43rd year – a holiday tradition in the city.
The American Swedish Institute invites you to experience the holidays through the lense of five Nordic countries: Sweden, Norway, Denmark, Iceland and Finland. Decorated rooms within the historic Turnblad Mansion introduce you to "'spirited' cultural traditions."
The Children's Theater production of How the Grinch Stole Christmas is a fascinating, festive treat for kids and kids-at-heart. Children and families will enjoy this wonderful tale of the meaning of giving at Christmastime.
This "galleri" displays the Twin Cities in a unique way… in gingerbread! See your favorite buildings and landmarks created from this popular cookie, while munching on holiday treats. You can even bring in your own gingerbread creation to put on display.